Your cart
Shipping and discount codes are added at checkout.
Spars, Rigging, and Hardware for Sailboats

Rig-Rite, Inc.
Phone: (001) 401-739-1140 -- FAX: (001) 401-739-1149
www.RigRite.com Ordering/Questions

Merriman #5770 Turnbuckle Toggles

---
Merriman #5770 Turnbuckle Toggles were originally designed to add a toggling feature to Fixed Jaw Turnbuckles. Made from Forged Bronze, they are available in a Bronze or Chrome-plated finish. Toggles are designed to work with Merriman #3770 Forged Bronze Turnbuckles as well as #7854 T-Bolt Turnbuckles, and all modern variations. They are especially handy for adding beneath a Turnbuckle to extend rigging length.
See also, Masthead & Forestay Toggles, and Rigging Toggles.


---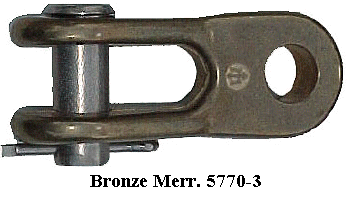 | | | | | | | | |
| --- | --- | --- | --- | --- | --- | --- | --- |
| Part No. | Finish | Turnbuckle & Pin Size | Wire Diameter | Tensile Strength | Jaw Width | Length* Pin to Pin | Weight |
| 5770-308 | Bronze | 1/4" | 1/8" | 2750 lbs | 1/4" | 1 1/2" | 2 oz |
| 5770-310 | Bronze | 5/16" | 5/32" | 4300 lbs | 5/16" | 1 1/2" | 3 oz |
| 5770-312 | Bronze | 3/8" | 3/16" | 6500 lbs | 25/64" | 1 1/2" | 4 oz |
| 5770-314 | Bronze | 7/16" | 7/32" | 9000 lbs | 29/64" | 1 7/8" | 6 oz |
| 5770-316 | Bronze | 1/2" | 1/4"-9/32" | 10300 lbs | 17/32" | 1 7/8" | 7 oz |
| 5770-320 | Bronze | 5/8" | 5/16"-3/8" | 17000 lbs | 21/32" | 2 5/8" | 12 oz |
| 5770-324 | Bronze | 3/4" | 7/16" | 29000 lbs | 25/32" | 2 5/8" | 1 lb 3 oz |
| 5770-328 | Bronze | 7/8" | 1/2" | 43500 lbs | 29/32" | 2 7/8" | 2 lbs 2 oz |
| 5770-332 | Bronze | 1" | 5/8" | 56500 lbs | 1" | 3 1/2" | 2 lbs 2 oz |
| 5770-340 | Bronze | 1 1/4" | 3/4" | 81000 lbs | 1 1/4" | 4" | 4 lbs 8 oz |
---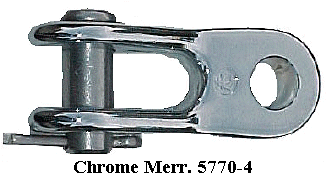 | | | | | | | | |
| --- | --- | --- | --- | --- | --- | --- | --- |
| Part No. | Finish | Turnbuckle & Pin Size | Wire Diameter | Tensile Strength | Jaw Width | Length* Pin to Pin | Weight |
| 5770-408 | Durasheen | 1/4" | 1/8" | 2750 lbs | 1/4" | 1 1/2" | 2 oz |
| 5770-410 | Durasheen | 5/16" | 5/32" | 4300 lbs | 5/16" | 1 1/2" | 3 oz |
| 5770-412 | Durasheen | 3/8" | 3/16" | 6500 lbs | 25/64" | 1 1/2" | 4 oz |
| 5770-414 | Durasheen | 7/16" | 7/32" | 9000 lbs | 29/64" | 1 7/8" | 6 oz |
| 5770-416 | Durasheen | 1/2" | 1/4"-9/32" | 10300 lbs | 17/32" | 1 7/8" | 7 oz |
| 5770-420 | Durasheen | 5/8" | 5/16"-3/8" | 17000 lbs | 21/32" | 2 5/8" | 12 oz |
| 5770-424 | Durasheen | 3/4" | 7/16" | 29000 lbs | 25/32" | 2 5/8" | 1 lb 3 oz |
| 5770-428 | Durasheen | 7/8" | 1/2" | 43500 lbs | 29/32" | 2 7/8" | 2 lbs 2 oz |
| 5770-432 | Durasheen | 1" | 5/8" | 56500 lbs | 1" | 3 1/2" | 2 lbs 2 oz |
| 5770-440 | Durasheen | 1 1/4" | 3/4" | 81000 lbs | 1 1/4" | 4" | 4 lbs 8 oz |
~ Back to Turnbuckles Main Page ~